5 Ways to Protect Your Home From Wildfires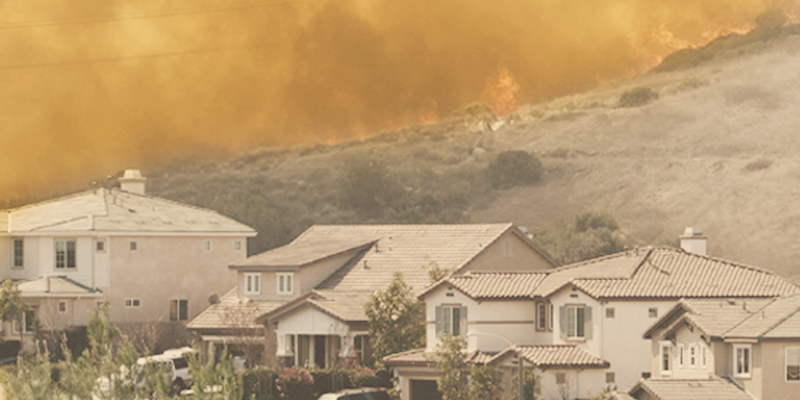 Having a home near nature in Southern California has its perks: closeness to hiking and biking trails, fresh air, and being able to experience wildlife. However, there is some cost to that beauty and tranquility.
As summer temperatures rise once again here in Southern California and Santa Ana winds start kicking up, wildfire season is upon us, especially those living in the hills, foothills, and natural lands known by wildfire experts and firefighters as the Wildlife Urban Interface (WUI). Southern California was spared significant wildfires in 2019, giving firefighters and homeowners in the WUI  a bit of a break for the most part. Fall 2020 looks like it will be a bit tougher. The good news is we have some time, the rains from March and April have left vegetation in Southern California pretty moist leaving our brush fire risk below average through June of this year. The problem is that vegetation will dry out soon enough leaving us with an above-average wildfire risk thanks to all the new foliage.
Whether the brush in Southern California burns this year or next year, experts guarantee us it will burn at some point, and the best time to protect your home from wildfires is right now. With high winds, nothing can stop a fast-moving wildfire, but the preventative actions you take now to protect your home now will give your home the best chance for survival. Here is a quick list of items you can address now that can make a big difference in reducing your risk from a wildfire:
1. Defensible space
This is what your insurance company cares about most: how close can a fire get to your home. In Paradise, CA in 2018, the fire jumped from tree to tree right on top of homes making home fire defense impossible. It is recommended that you clear at least 100 feet of space between your home and any dry vegetation. Embers can easily travel long distances (miles, not feet), so more space is better.
2. What's on your roof?
Hopefully nothing. Honestly, there shouldn't be anything on your roof. No leaves, no pine needles, certainly no tree branches, etc. Any dead vegetation on your roof is just kindling for a fire.
3. Update your windows. 
A double-pane is better than a single pane, and a fire-resistance screen is a must. And remember, in a fire: close your windows as most wildfires are more likely to cause smoke damage than fire damage.
4. Remember that defensible space? It Includes your deck, furniture, etc.
It's great to have beautiful patio furniture, a great deck, and scenic balcony; just make sure they aren't made of wood, wicker, or the like. In a wildfire, anything that is combustible outside your home will do exactly that: combust. (This also true for your roof and home siding, don't use wood.)
5. Closed eaves:
This is actually one of the most important things you can do to protect your home. Go outside your home and look up at your roof, is there a space between your roof and exterior walls and little holes that act as vents? Those are open eves and that's bad. Those roof vents are perfect for embers to fly into your attic and land on highly flammable home insulation. Closed eaves close the gap between your roof and exterior wall and greatly reduces fire danger.
Addressing the items above will greatly increase the chances of your home surviving a fire. Even with every precaution, however, sometimes an evacuation or some amount of smoke damage can be inevitable. Just like with the risk management items above, preparation is key to prepare to quickly depart to protect yourself. Here are a few things you can do now:
Know where to stay.  In the 2018 Woosley Fire, evacuees quickly booked every hotel room from Santa Barbara to Irvine. Have a few places in mind ahead of time so you beat the crowd if 2018 happens again.
Know what you own. If you were asked to write down everything you own without looking, could you do it? It's harder than you might think. Take a video of all your possessions and upload it in the cloud. It's good in the event of an insurance claim to have proof of what you might have lost (you can use pictures in lieu of a receipt in many cases).
Know your neighbors. A good neighbor can check on your home and your family when you aren't there, and you can do the same for them. In a wildfire, the fire department may be stretched thin, and this could be your best way of knowing if your home is okay if you aren't there.
Make copies of important documents. Car title, Mortgages, birth certificates, passports, etc.
Taking the time and money to prepare for wildfires will have an ROI at some point, whether by saving your home, lowering your insurance premiums, or making your home more attractive for a buyer in the future. In fact, FEMA studied the impact of mitigating wildfires on homes in the WUI and found that the return was $4 for every $1 spent. These simple actions can save you money, protect your property, and perhaps even save your life.
Wildfire Preparedness Webinar
Thursday, August 13th at 6pm PT
Join us for an informative discussion on preparing your home and family for a wildfire in light of the COVID19 Pandemic. Find out why wind-driven fires (like Woolsey) act differently, what landscaping makes a difference around your home, what you can do now to protect your home, and how you should prepare your family. Following the panel of experts, attendees will be able to ask questions as to what to expect this fire season, and how they might prepare in their particular circumstance.