Preparing for Wildfires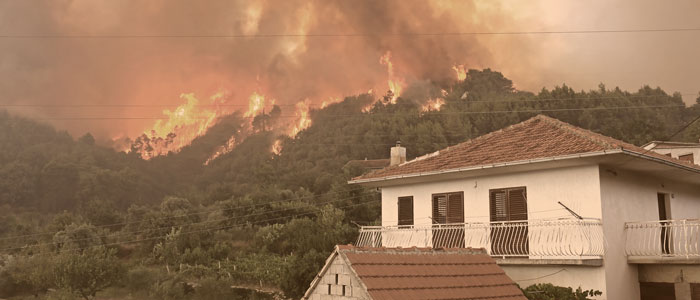 The air is dry, the days are hot, and the winds are picking up in Southern California. These end of summer conditions are what fuel wildfires and put us in the peak of wildfire season.
Many homeowners in California face the unfortunate risk of wildfires. We see brush fires frequently, some of which can be contained quickly, but we know the danger of wildfires that are much more difficult to contain. Last year, the state faced multiple fires and had one the deadliest and costliest in US history. The Camp Fire in Northern California resulted in numerous fatalities and over $16 billion in damages. During the same period, Southern California experienced devastating wildfires, two of which were right next to our headquarters in Woodland Hills.
Preparing for Wildfires
Homeowners Insurance
The first step in preparing for wildfires is ensuring you have proper homeowner's insurance in place. You should review your homeowner's policy and understand what it covers. You should also make a list of the contents in your home and update it regularly. 
Unfortunately, the damaging fires last year resulted in many insurance carriers non-renewing homeowners policies in areas near brush, or other fire-prone areas. If you need assistance in obtaining a homeowner's policy, please contact our office. 
A handful of high-end carriers include Wildfire Defense Services with their homeowner's policies. Chubb, PURE, and Nationwide Private Client are all top carriers, and each has variations of Wildfire Defense Services. The most notable benefit is the use of Private Firefighters and the ability to apply fire suppressants or retardants to vulnerable areas. These services supplement local fire efforts and are meant to add an extra layer of protection to your home.
Be informed and prepared
Keep your family informed on what to do in case of a wildfire. Prepare an emergency action plan, as well as an emergency supply kit to include essential items such as water, food, and medications. For a more extensive list, view or download our emergency supply kit checklist. Be sure to include your pets in your emergency action plan and create an emergency supply kit for them. Consider using our Pet Emergency Checklist and Plan. 
For general fire safety, ensure you have at least one working fire extinguisher and teach your family how to use it. For each floor of your home, install a dual-sensor smoke alarm, especially near bedrooms. Test it monthly and change the batteries yearly.
Preparing Your Home for Wildfires
Your Home
If your home is not yet constructed or will be undergoing renovation, consider using fire-resistant materials. For the roof and other exterior structures, use non-combustible materials, or treat them with approved fire-retardant chemicals. It is best to have tempered windows with double panes, and doors that are fire-rated. 
Install 1/8″ mesh screens beneath porches, decks, and other areas where debris might collect to prevent it from accumulating. The same should be applied to any openings in your attic or roof to prevent embers and sparks from entering your home. Regularly clean your gutters and your roof and remove debris. If you have a chimney, have it inspected twice a year, and have it cleaned once a year. You can contact your local fire department to learn about equipping your chimney with a spark arrester. 
Landscape
Your landscape significantly impacts the risk of a fire spreading to your home, so plant trees and shrubs strategically. Hardwood trees are less flammable than softer trees such as pine, evergreen, eucalyptus, and firs. Pine, spruce, and juniper trees are considered very flammable and should not be close to your home. Remove vegetation and other fuel sources from the area surrounding your home. Remove any dead branches, especially if they extend over your roof. Thin trees so that there is a 15-foot space between tree crowns. You should also remove any tree limbs that are within 15 feet from the ground. Keep your grass mowed regularly, and avoid using bark mulch or pine needles in your yard. 
If you have other sources of fuel such as gasoline or oily rags, store them in approved safety containers and keep them away from the base of your structure in a safe location. 
If items not on your property are an issue for concern, speak with your neighbor about adhering to safety precautions. If you notice tree branches are over power lines, ask the power company to clear them.
Preparation is key
Preparing your home for wildfires can significantly reduce your risk of fire damage. We encourage you to take these precautions and keep your family informed. For more robust information, read or download our full-version of Preparing for Wildfires. 
Additional resources
Would you like your homeowner's insurance reviewed?
If you are seeking a homeowner's insurance policy, or would like one of our agents to review your existing policy, please contact us.