April is Earthquake Preparedness Month, and there is no better time to get a plan in place. Here are some safety resources to help you prepare for an earthquake.
Earthquake Preparedness Seminar
In September 2019, we hosted an Earthquake Preparedness Seminar. People from the Los Angeles Fire Department and the American Red Cross joined us in the discussion. View the webinar here: Earthquake Preparedness Webinar
The 3 Steps of Earthquake Preparedness from the American Red Cross
1. Make (or buy) a kit
Your kit should include essential items like food, water, and medication. View our full Emergency Supply Kit list, as well as our Pet Emergency Kit and Plan.
2. Make a plan
All disaster preparedness plans should include your home, work, and school. Start by having a conversation with your family about what to do in case of an emergency. Discuss escape plans for different situations, and don't forget to include any animals you have.
The Red Cross recommends having these 3 elements to your plan:
An out-of-state contact (at least 20 miles from your home)
Two evacuation routes
Two places to meet – one very close to home and one loca l spot
3. Stay informed
Time is of the essence during a crisis, so consider signing up to receive emergency public alerts. Some examples for those in the Los Angeles area include NotifyLA.org or @LAFD on Twitter.
If you are driving when an earthquake hits, pull over and remain in your vehicle until the shaking stops. Be aware of falling objects.
CERT Training for Earthquakes from the LAFD
Community Emergency Response Team (CERT) is free training provided by the LAFD to prepare local people for disasters.
CERT members are trained in basic disaster response skills like fire safety and light search and rescue. Members also learn how to prepare for emergencies, what supplies to keep on hand, and how to protect their loved ones.
Learn more about joining CERT here.
What Government Assistance is Available After an Earthquake?
A maximum of $35,000 is available through FEMA for individuals and families who have lost their homes as a result of a disaster. If you are a renter or homeowner, you may qualify for assistance. By law, FEMA assistance cannot be used for anything that is already covered by your insurance. FEMA only covers your primary residence.
FEMA does not offer assistance for small businesses impacted by a presidentially declared disaster. The Small Business Administration (SBA) offers low-interest loans for business damages, up to $250,000.
What Do Earthquake Insurance Policies Cover?
The California Earthquake Authority (CEA) provides most earthquake insurance in California. Here's a breakdown of what the CEA will cover versus private carriers: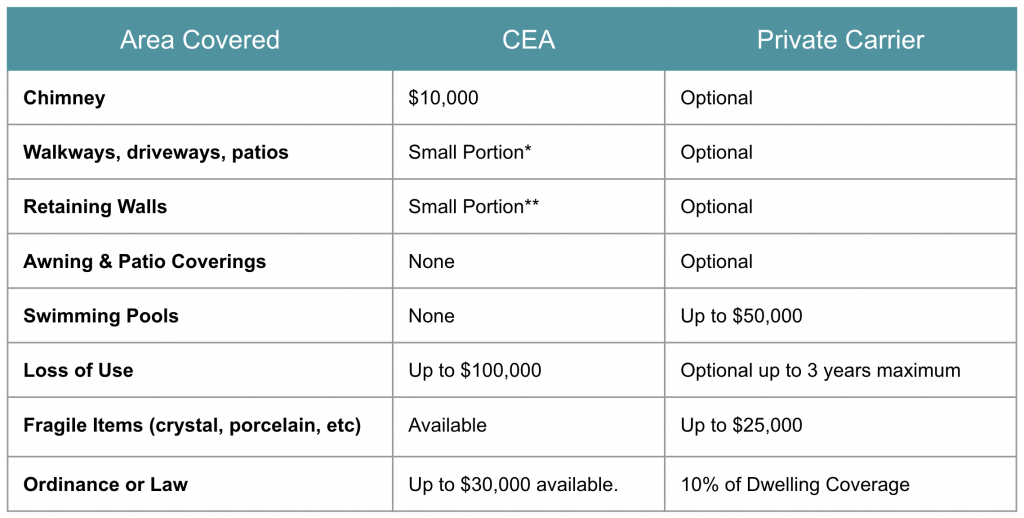 *Only those paved areas necessary for the ingress and egress of a property. **Only those walls necessary for the stability of the home dwelling.
Earthquake insurance premiums are often higher than other types of insurance because there are fewer people buying it. Deductible options for a CEA policy range from 5% to 25%. Private earthquake carriers can go as low as 2.5% for a deductible. You do not need to pay your deductible out-of-pocket. The deductible is subtracted from your total in covered damage.
The most important residential earthquake insurance coverage is
Dwelling with maximum building code upgrade
Loss of Use (you could be out of your house for 2-3 years)
Swimming Pool & Hardscape Coverage
Personal Property and Fragile Items (get a separate "personal article floater" for art and high-value collectibles).
Knowing what to do during an earthquake is vital. For more earthquake safety tips, download our guide for what to do Before, During, and After an Earthquake. Natural disasters can strike at any time, and we hope that you take the initiative to prepare your home and family. Stay safe and informed, and maintain your emergency kit and plan.