Following the back-to-back earthquakes that surprised California in July, we hosted an Earthquake Preparedness Seminar. Representatives from the Los Angeles Fire Department and the American Red Cross joined us in the informative discussion. The seminar was recorded and is viewable in the above video. Below is a summary of what we covered so you can stay informed and prepared for the next big one.
The 3 Steps of Earthquake Preparedness from the American Red Cross
1. Get a kit
Kit essentials should include vital items such as food, water, and medication.
The Red Cross suggests the following items:
Water: one gallon per person, per day (3-day supply for evacuation, 2-week supply for home)
Food: non-perishable, easy-to-prepare items (3-day supply for evacuation, 2-week supply for home)
Flashlight
Battery-powered or hand-crank radio (NOAA Weather Radio, if possible)
Extra batteries
Deluxe family first aid kit
Medications (7-day supply) and medical items
Multi-purpose tool
Sanitation and personal hygiene items
Copies of personal documents (medication list and pertinent medical information, proof of address, deed/lease to home, passports, birth certificates, insurance policies)
Cell phone with chargers
Family and emergency contact information
Extra cash
Emergency blanket
Map(s) of the area
We also have an Emergency Supply Kit PDF you can download and print, as well as a Pet Emergency Kit and Plan.
2. Make a plan
Emergency plans should not just be for your home; they should also include work and school. Start by having a conversation with your family about what do do in case of an emergency. Your plan should include preparation items such as an emergency kit, as well as securing TVs and dressers or other large items with earthquake straps. Discuss with your family an escape plan for various situations, making sure to include if your at home or work, and don't forget to include any animals you have.
The Red Cross recommends to have these 3 elements to your plan:
Have an out-of-state contact (or at least 20 miles from your home)
Have two evacuation routes
Have a family escape plan and have two places to meet, one very close to home, the second local
You can find steps for what do Before, During, and After an Earthquake here.
3. Be informed
Knowing what to do during an earthquake is vital. When an earthquake kits, drop, cover, and hold on. The doorway method is no longer taught, and instead you should seek cover under a table if possible. You should also know about your utilities and how to shut them off if needed. You can download the Emergeny App from the American Red Cross.
If you are driving when an earthquake hits, we recommend to pull to the right and to remain in your vehicle until the shaking stops, being aware of any objects that may fall.
CERT Training for Earthquakes from the LAFD
CERT stands for Community Emergency Response Team and is free training provided by LAFD to prepare local people for disasters.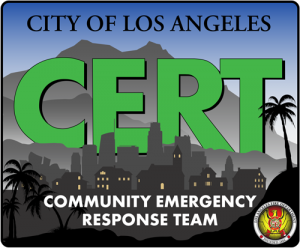 CERT members get training in basic disaster response skills such as fire safety, light search, and rescue, team organization, and disaster medical operations. Members will learn how to prepare for emergencies, what supplies to have now, how much food and water, and most importantly, how to protect your family.
Learn more about joining CERT here.
Emergency Public Alerting and Notifications from the LAFD
Time is of the essence during a crisis, so consider signing up to receive emergency public alerts and notifications.
What assistance is available from the government after an earthquake?
It's only a maximum of $35,000 through FEMA for individuals and families who have lost their homes as a result of a presidentially declared disaster. If you are a renter or homeowner, you may qualify for assistance. By law, FEMA assistance cannot duplicate the compensation you receive from your insurance company, but you may receive assistance for items not covered by insurance. FEMA only covers your primary residence.

FEMA does not offer assistance for small businesses impacted by a presidentially-declared disaster. The Small Business Administration (SBA) offers low-interest loans for business damages, possibly up to $250,000.
What do earthquake insurance policies really cover?
Here's a break down of what the California Earthquake Authority (CEA) will cover versus other private carriers.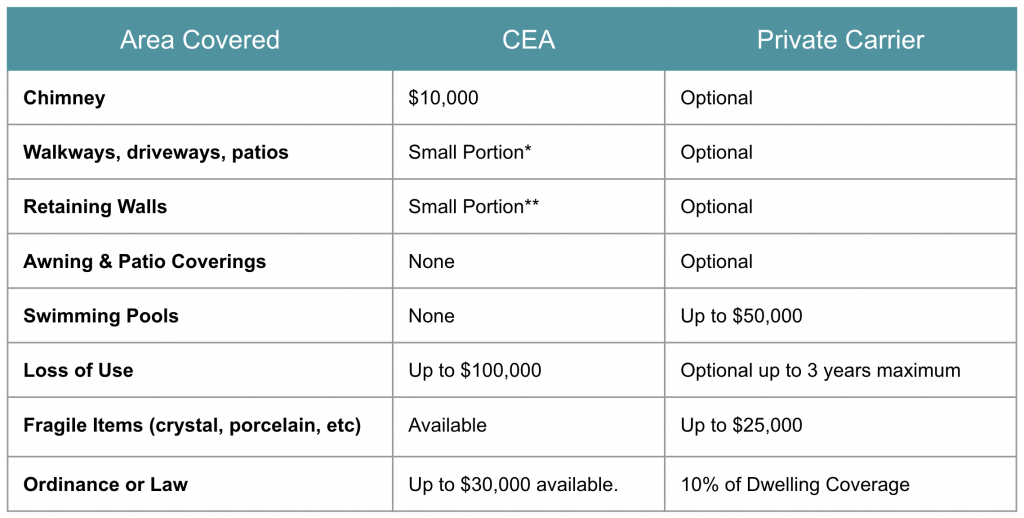 You do not need to pay your deductible out of pocket. The deductible is subtracted from your total in covered damage.
Deductible options for a CEA policy range from 5% to 25%. Private earthquake carriers can go as low as 2.5% for a deductible.
In a perfect world, any homeowners would have every possible coverage at a 2.5% deductible, but that could be a significant cost.
Which coverages are the most important for Earthquake Insurance?
Dwelling with maximum building code upgrade

Loss of Use. You could be out of your house for 2 to 3 years

Swimming Pool & Hardscape Coverage

Personal Property and Fragile Items (Get a separate "personal article floater" for art and high-value collectibles).
Earthquakes and other natural disasters can strike at any time and we hope that you take the initiative to prepare your home and family. Stay informed and maintain your emegency kit and plan, and above all, have the conversation with your family on how to respond to an emergency.