Imagine this scenario: You let a friend borrow your car. While they are driving, they are in a collision and hit another car. Is your friend at fault as the driver, or are you responsible as the owner of the car? In most cases, your friend the careless driver is at fault. However, things can get a bit tricky under certain circumstances.
You may be held liable in a few instances:
The Family Car Doctrine – If a teen driver is involved in an accident, the parents can be held liable. This is because they knowingly let an unsafe driver operate the vehicle.
Negligent Entrustment – As a vehicle owner, you are responsible for whom you allow behind the wheel of your car. You may be held liable for damages if you let someone drive your car who was under the influence, underage, inexperienced, or who has a history of reckless driving.
Negligent Maintenance – It is your responsibility to keep your car safe and working correctly. If the accident is a result of a mechanical issue, you are responsible even if you were not the driver.
Employer Liability – This is also called vicarious liability. Companies are responsible for the actions of their employees.
We've seen tricky situations around accident liability in the news lately. For example, in March 2020, a customer took his car for an oil change at a local dealership. A 19-year-old employee at the dealership – who did not have a license and couldn't drive a stick shift – got behind the wheel to move the car and struck and killed Jeffrey Hawkins, a mechanic at the dealership. The family is suing the owner of the Jeep for $15 million because, under the law, he is responsible for handing the keys to the teen at the dealership.
While liability may seem vague in some situations like this, as the owner of a vehicle, it is your responsibility to maintain and carefully choose who you allow to drive it.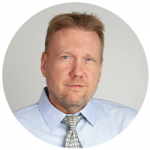 Mike Ekdahl is an insurance agent who specializes in Home and Auto, Apartment Building and HOA, and Restaurant insurance. Mike's cornerstone belief that "the client comes first" has made him a favorite with a broad range of customers in the Greater Los Angeles community. Read more.