What is EPLI?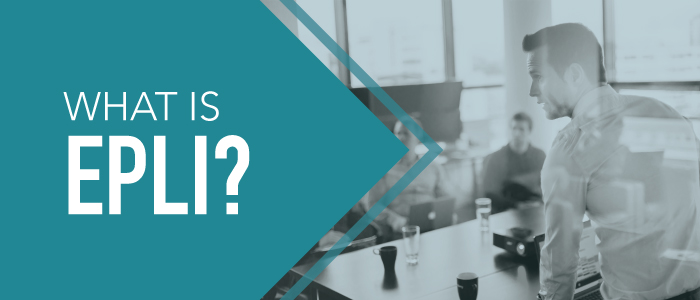 What Is EPLI Insurance? Do I need it?
It seems like every day we see a new story in the headlines about harassment or discrimination.  Any time there is physical abuse, unwanted touching, racist/sexist/homophobic /transphobic/ageist comments or any other "obvious" action we know something is amiss (and is not something we condone!), but sometimes even unintentional actions can have serious consequences.
As a business owner it is critical to protect your property, premises, and liability- but what about those gray areas that involve your employees?  It is your responsibility to provide a safe and comfortable work environment for all those involved- but what happens if two employees begin a relationship? Or if a third party mail delivery service harasses a staff member while on premises? Perhaps an employee is upset and after being fired, complains it was unfair.  What if none of these happen and a disgruntled employee still claims an entire scenario to extort money from the business?! Are you prepared to defend yourself in court and possibly pay damages to boot? If you are not sure that you are sufficiently covered for these types of situations, please give us a call.
Employment Practices Liability Insurance (EPLI) is often the missing piece in many business owners' protection arsenal.  You might have your computers, cars, and services covered but is that enough?  EPLI claims and lawsuits are on the rise, especially in litigious states like California and New York.  Sadly sometimes it doesn't matter how nice you are or how hard you try to be a good boss! Unexpected claims happen and can easily reach into the six-figure range between defense & settlement.
An EPLI policy can provide coverage and defend you against situations like:
Harassment (Sexual & Non)

Discrimination (Age, Gender, Orientation, Religion, Disability, etc.)

Retaliation

Failure to hire or promote

Wrongful termination

Wage & Hour Violations
So who is the most vulnerable business owner? Well, you might think it's "Big Corporate" because people like to go after big pockets right? Nope. Small to mid-sized businesses are actually the most at risk of claims and financial losses without EPLI.  Why is that? Well, smaller businesses don't usually have a separate Human Resource (HR) department like a Big Corporation would (which along with providing a safe barrier for registering workplace complaints, also provides structure and guidelines like an employee handbook). Without HR training, even the most well-intended hiring & firing decisions can be problematic.
Example: John works in the reception of a small dental office.  One of the dental hygienists keeps asking John out for drinks after work and he consistently refuses. Perhaps the hygienist sends inappropriate emails or texts to John as well.  Since the office is small John, there is no HR department and John does not feel comfortable telling the owners. He quits, but later learns he can file suit for harassment.
Example: Linda was working full-time in an accounting office when she became pregnant.  After maternity leave, Linda plans to return to work full-time, however as time goes on she realizes this will not be possible and instead asks to work part-time.  Since the accounting office is small, they cannot accommodate both a part-time and full-time employee. Rather than finding two part-time employees, they do not offer Linda her job back after her maternity leave.  Linda then hires a lawyer to file suit for discrimination.
Example: Jennifer is uncomfortable working with a co-worker who makes crude jokes and speaks to the owners about a new position.  The owners discipline the crude co-worker but move Jennifer to another department that she did not agree to and reduce her pay along with the job change.  Jennifer believes this reassignment is a demotion and retaliation for speaking out. She sues.
But wait… isn't this covered by my General Liability policy or my Workers' Compensation policy? No! General Liability covers bodily injury and property damage that your business causes to other people.  Worker's Compensation will cover injuries (both mental and physical) to your employees and compensate for the time they are unable to work.
Still confused? Don't fret, we are here to help! You may be able to add nominal EPLI coverage to your existing Liability package at a very low cost.  Those with more complicated businesses most likely need a standalone EPLI for more robust coverage. Give us a call today to see if your business could benefit from the protection of EPLI! We've got your back.