Required by Law: Harassment and Discrimination Training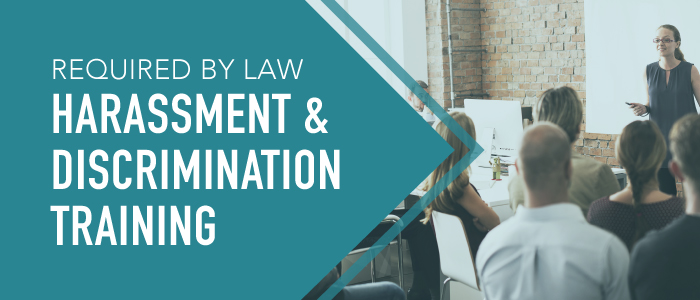 One of our goals as insurance advisors is to keep our clients updated on the ever-changing landscape of Employment Law in the state of California.
One of the most recent changes that will impact the majority of the employers who we work with, is the recently updated training requirements regarding Harassment and Discrimination Prevention and Correction.
By January 1, 2020:
An employer having five or more employees shall provide at least two hours of classroom or other effective interactive training and education regarding sexual harassment to all supervisory employees and at least one hour of classroom or other effective interactive training and education regarding sexual harassment to all nonsupervisory employees in California within six months of their assumption of a position.
This training must be provided once every two years and it must be provided by qualified trainers (attorneys admitted for more than 2 years, Human Resources Professionals with 2 or more years of practical work experience, professors and instructors who have a post-graduate degree or a California teaching credential).
The major changes are of course, that the threshold has decreased from employers having 50 or more employees down to employers having 5 or more employees must train all supervisors in California. Nonsupervisory employees in California must also now be provided with at least 1 hour of training. A supervisor is anyone with the authority to hire, fire, assign, transfer, discipline, or reward other employees. A supervisor is also anyone with the authority to effectively recommend (but not necessarily take) these actions if exercising that authority requires the use of independent judgment
Employers in California may face increased liability for failing to take all reasonable steps necessary to prevent discrimination and harassment from occurring. All California employers have an affirmative duty to take these reasonable steps to prevent harassment in the workplace and to promptly correct harassment if it does occur. A California employer should note that discrimination and harassment may be based on protected classes other than sex, sexual orientation, or gender identity or expression.
FEHA includes the following as protected classes:
Race.
Religious creed.
Color.
National origin and ancestry.
Physical or mental disability.
Medical condition.
Genetic information.
Marital status.
Sex/gender.
Gender identity/gender expression.
Pregnancy.
Age (40 and over).
Sexual orientation.
Military and/or veteran status
Now, here is the good news!
You don't have to worry about how you will comply with the new regulatory requirements for harassment and discrimination training. We are now offering the complete 2-hour training course, which fulfills the requirements of the California Department of Fair Employment and Housing.
The training will be available for both current customers and non-customers, located within a "reasonable radius" of our Southern California office. Pricing will vary based upon your status with us a customer or non-customer.
Periodic training classes will also be held at the Gaspar Offices located at 23161 Ventura Blvd. Suite 100, Woodland Hills CA 91364
Contact us at 818-302-3060  for pricing and scheduling.
As always, it is a pleasure to partner with you in your business and personal endeavors by providing you with excellent service and quality insurance products.
View training availability
View our current openings for this mandatory Harassment and Discrimination Training by visiting the link below. Contact us for pricing information and to schedule at 818-302-3060.