What Does Crime Insurance Protect?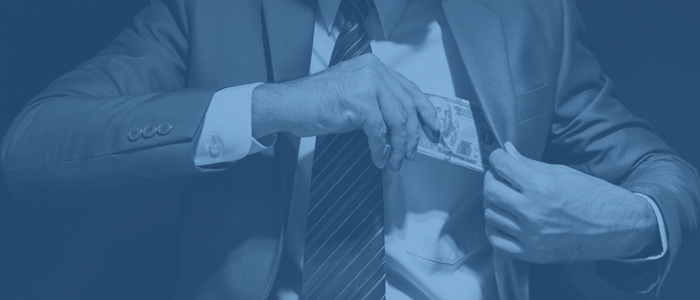 What is Crime Insurance?
When it comes to fraud or theft, it can be hard to imagine yourself and your business as victims. Surely, you think, your employees would never steal from you. With all of the security that you have in place, it can be hard to imagine that any outside theft would occur, either. The truth is, nobody is exempt from these acts. Crime Insurance is designed to provide you with complete protection against theft. General Liability policies and Inland Marine policies can help with outside theft, but you are going to need this extra protection to cover yourself from theft that begins at the source.
We hear about it all the time in the news – An employee of a large company embezzles thousands of dollars' worth of products. It sounds awful, but again, it is hard to imagine on a smaller scale. Because these cases garner attention, one may overlook that smaller companies are at a higher risk of theft. For example, a mom and pop electronics shop might offer less of a salary than Best Buy would. This smaller shop also wouldn't be likely to have an entire HR department. There are more opportunities for dishonest employees to act in a moderate setting.
Different Crime Insurance Coverages
The following are some coverages that you can benefit from when you decide to go with Crime Insurance for your business:
Computer Fraud
No matter what your business is, you probably own at least one computer. This coverage will protect your money, securities, and other property that gets compromised due to fraudulent transfer over the device.
Employee Dishonesty
An essential feature of Crime Insurance, this coverage will protect you from any dishonest actions that your employees might take. Unfortunately, there are many opportunities for someone on your team to steal from you. Every step of the way, from ordering supplies to closing out the register at night, you need to be protected.
Employee Dishonesty Including Customers' Property
This is an important one, and it is just how it sounds. This coverage is meant to protect the customer from any wrongful action on the employee's part.
Extortion
A common occurrence for businesses of all sizes, any business owner can fall victim to kidnapping and extortion.
Forgery or Alteration
This coverage will protect you from those other than employees and owners. For example, if someone writes you a bad check or presents you with another false form of payment – With the current advancement of technology, it is better to be safe than sorry.
Lessees of Safe Deposit Boxes
This coverage will protect any property other than money stored off premises in a safe deposit box. The cause of loss can be anything from theft to disappearance to destruction.
Robbery and Safe Burglary – Money and Securities
Probably a business owner's worst fear, Crime insurance will put you at ease by protecting you from getting your money stolen. This coverage extends from your premises to a banking institution, as long as it is in a safe or vault. There is also robbery coverage that extends to other locations when the property is in transport by a messenger.
Is Crime Insurance Right for You?
Crime Insurance is a comprehensive policy that adds a lot of safety and security to your business. It fills in the gaps that other policies do not cover and also extends to protect you from employee dishonesty. No matter the nature of your business or the size of your company, obtaining a Crime Insurance policy is an excellent decision. Our agents at Gaspar would love to start the conversation, contact us today for a Crime Insurance quote!
What is your crime exposure?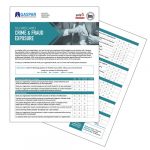 Use our Crime and Fraud Exposure Scorecard to help determine your organization's risk.