We want to reduce your insurance expenses now
Your insurance needs have changed, and we can help find ways to lower your premiums. Receive a $25 giftcard to support a local business of your choice for starting a new policy with us.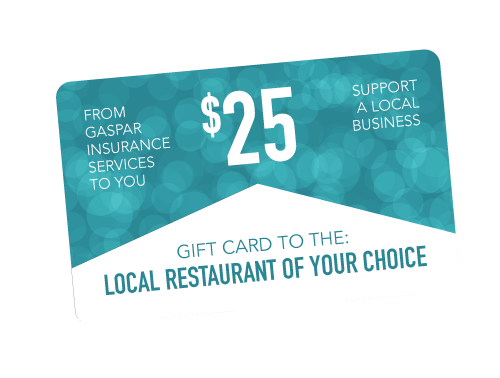 Call us at
818-492-9616
Call us to get started or complete our simple contact form and we will get back to you shortly. You can also email us at info@gasparinsurance.com for more information.
Save money now

and support a local business

We'll provide you with a no-obligation quote. Most quotes can be provided with just this information.
Agents. Advisors. Friends.
As a local independent insurance broker, we represent many fantastic carriers so that our clients are not limited in their coverage options. Our agents work with you directly to ensure your assets are protected according to your needs. It would be our pleasure to answer any questions you may have. If you would like an agent to review your existing policy, we offer complimentary reviews along with our quotes.
Looking for an agent?
Find your existing agent or browse our professionals if you're in the market for a new agent.
FIND AN AGENT